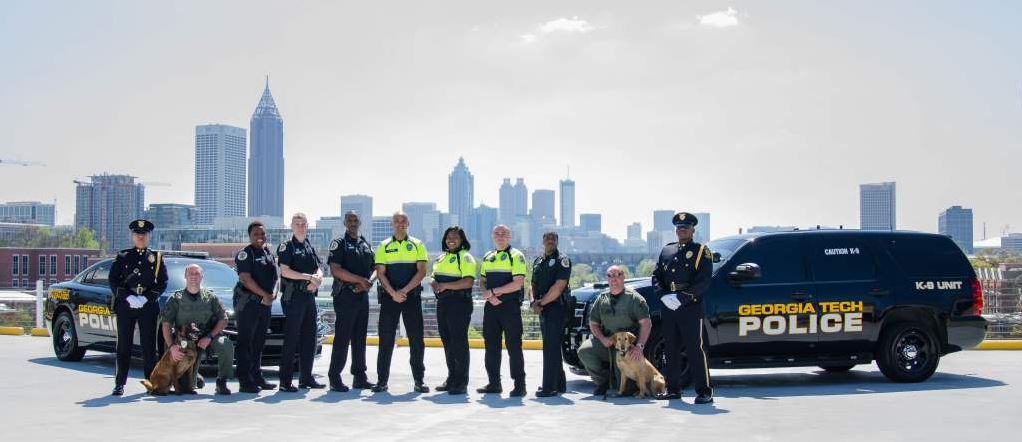 The Georgia Tech Police Department is looking for individuals committed to making this Department one of the best law enforcement agencies in the country. We are located in the heart of Atlanta, Georgia and seek honest, courteous, and compassionate individuals who are dedicated to leadership and excellence. We are seeking people who can work independently and as a member of a team, people who can lead and who can follow. If you possess these qualities, you could enjoy a rewarding and enriching career with the Georgia Tech Police Department.
Learn more about the benefits of being employed by Georgia Tech.
To submit your application for a Public Safety Officer, click on this link.
To submit your application for a Police Officer, click on this link.
To submit your application for other open positions, go to Careers section of the Georgia Tech Office of Human Resources.
The recruitment process for all GTPD employees involves completion of an online application and several interviews as well as a comprehensive background investigation.The process generally takes 6-8 weeks. In addition......
police officer and public safety officer candidates must successfully pass a polygraph assessment, drug screen and physical exam, human performance evaluation, and psychological testing. If not already GA POST-certified, police officer candidates must graduate from 11 weeks of training at the Police Academy before they enter the 12-14 week GTPD Field Training program; and
communication officer candidates who are not already GA POST-certified must graduate 40 hours of Academy training before they enter the 6 week GTPD on-the-job training program.
Do you have specific questions about a career in the Georgia Tech Police Department? Please email recruit@police.gatech.edu. We wish you much success in your career search!
The Georgia Institute of Technology is an equal opportunity employer and will not discriminate against any employee or applicant on the basis of age, color, disability, gender, national origin, race, religion, sexual orientation, veteran status, or any classification protected by federal, state, or local law. Consistent with its obligations under federal law, each company that is a federal contractor or subcontractor is committed to taking affirmative action to employ and advance in employment qualified women, minorities, disabled individuals and veterans.