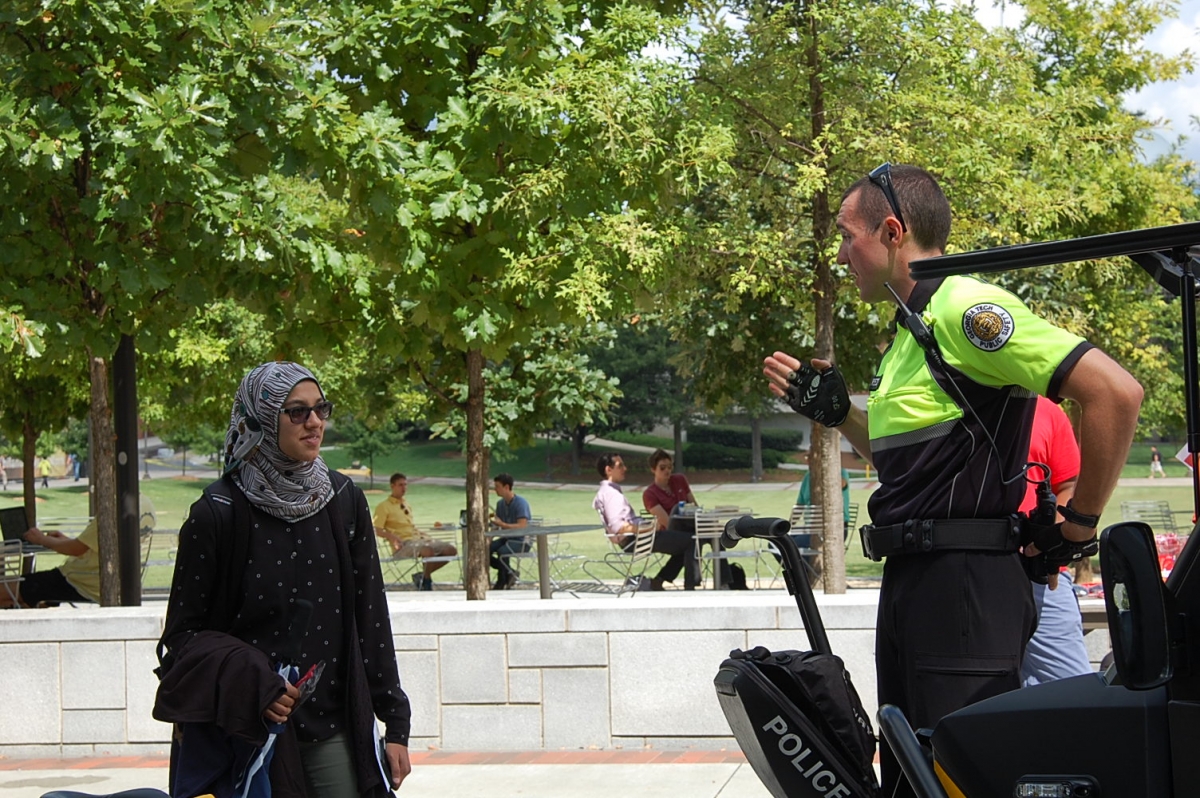 Campus Community Policing
The Georgia Tech Police Department is a full-service police agency operating twenty-four hours a day, seven days a week. GTPD utilizes a strategic combination of intelligence-led and community-oriented policing services and participates in multiple outreach opportunities, to bring campus concerns back to the Department. All supervisors attend regular crime management meetings in order to share intelligence and discuss strategies for crime prevention and criminal apprehension.
All sworn officers are Georgia POST-certified peace officers. Policing duties include patrolling assigned areas on foot, in a vehicle, on a motorcycle, Segway, bicycle or Polaris; enforcing criminal laws, traffic laws, and local regulations; investigating crimes and traffic accidents; responding to emergencies and calls for service; and preparing reports.
Sworn officers also provide important community outreach to support the security of students, faculty, staff, and visitors through two-way conversations, formal classes, and communication on a variety of social media platforms. As very visible members of the Georgia Tech community, Georgia Tech police officers are responsible for providing leadership, guidance, and support for individuals in a variety of situations.
The Campus
Georgia Institute of Technology is one of the nation's top research universities, distinguished by its commitment to improving the human condition through advanced science and technology. For more than 16 years, Georgia Tech has been ranked among the top ten public universities in the United States by U.S. News & World Report. Georgia Tech seeks to create an enriched, more prosperous, and sustainable society for the citizens of Georgia, the nation, and the world.
Georgia Tech and the Georgia Tech Police Department are constantly growing and expanding to meet the needs of our students, faculty, staff, the city of Atlanta, and others who benefit from our presence. Our campus currently consists of 400+ acres and 200+ academic, residential, and recreational buildings. We have more than 36,000 students and nearly 9,000 faculty and staff. Campus residence halls can accommodate more than 10,000 students with the balance of students commuting to class. On any given day, there are numerous guests and visitors; during special events, the number of visitors can easily exceed 50,000. Georgia Tech is a very diverse university, attracting people from all over the world and from a variety of different cultures and backgrounds.