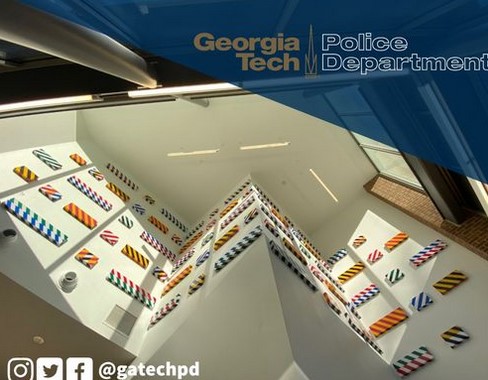 Jan 23, 2021 — Atlanta, GA
When Christopher Paul Dean was commissioned by the Georgia Tech Arts Council to provide artwork for the new GTPD headquarters, he knew exactly what to do.
His installation, "OSHA/ANSI No. 15: Safety Tape on Panel" (2020) is a celebration of safety through the unexpectedly colorful world of durable barricade and caution tape.
"This heavy-duty safety tape is commonly utilized as a device to demarcate zones, create order, assist in navigation, alert us to potential hazards and ultimately maintain safety," explains Mr. Dean. "But now, through my artistic intervention and in the context of The Georgia Tech Police Campus Safety building, there is a duality of existence in which the bold colors and diagonal pattern not only function as a sign of safety but also as a work of Art."
We encourage you to stop by the GTPD building to view the diverse panels, which create a dazzling display on the lower lobby walls. Other works by Mr. Dean in this series are in numerous private and corporate collections, as well as the Permanent Collection of the Savannah College of Art and Design.